| | | |
| --- | --- | --- |
| | | Hickory Hill - Cole County Communities |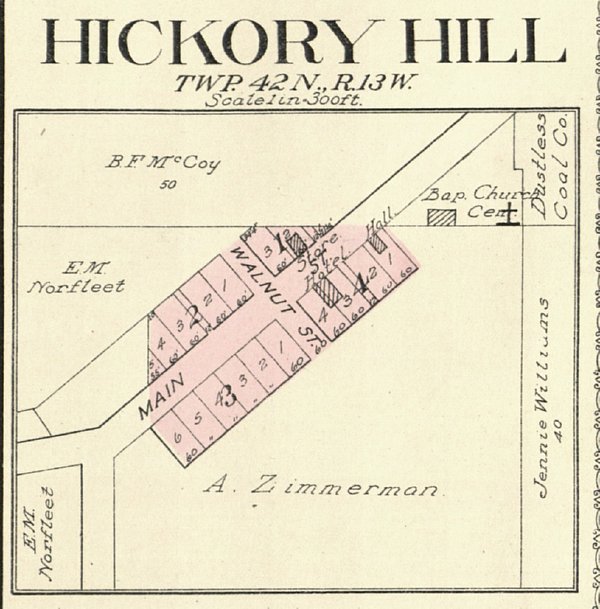 Hickory Hill
Hickory Hill was platted by M. H. Belshe, on the east half of the southwest quarter of the southeast quarter of Section 9, Township 42 North, Range 13 West, for John Lumpkin, and acknowledged by him December 14, 1867. Main Street, intersected by Walnut Street, is shown. Hickory Hill Lodge No. 211, A. F. & A. M., was incorporated October 2, 1868.

It is 21 miles south, southwest of Jefferson City, and had 1 school-house and 1 store. It is on Highway 54, northeast of Eldon (Miller Co.)
CLASSIFIED BUSINESS DIRECTORY OF COLE COUNTY

Hickory Hill, in Clark township, 21 miles southwest of Jefferson City, the seat of justice; 10 miles from Russellville, the nearest shipping and banking point. Mail daily. Population 75.
Bowen, W. H., merchant.
Farmer, Luther, blacksmith.
Hastings, Wm. S., stock dealer.
Henley, William, stock breeder.
Jordan, W. T., physician.
Loesch. Enos., saw mill.
Loesch, G. A., saw mill.
Pfunder, Albert, merchant and farm implements.
Pfunder, Henry, miller.
Reavis, W. T., stock breeder.
Walker, John W., wagon maker.

Source: Illustrated Sketch Book AND DIRECTORY OF JEFFERSON CITY AND COLE COUNTY
J. W. JOHNSTON. Editor.
---
HICKORY HILL,

A post village of Cole county, Clark township, situated near the Osage river, 145 miles from St. Louis and 20 miles from Jefferson City, the county seat. It was first settled by Messrs. Smith, McKenzie, Greenup and others. The post office has been established about 20 years. One stage line runs through this village from Jefferson City to Tuscumbia, distance 45 miles. The village contains one Baptist, one Methodist, and two Christian churches. The business consists of two blacksmiths, one clothier, one coal dealer, one commission house, one general store, one tavern, one surveyor, and several dealers in stock. The chief products are corn and wheat. Timber, oak, hickory and walnut. Minerals, lead of which there is a large quantity. Unimproved lands may be bought for $3 per acre, and improved $10. Population 100.

TOWNSHIP OFFICERS.
W. F. Fowler,
-Tembelton,
J. M. Bellinger,
Joseph Johnson, Constable.
Justices of the Peace.

Alphabetical List of Professions, Trades, Etc.
Bern W. S., blacksmith.
Bond John J., planter.
Clark I, planter.
Crisp Eli, blacksmlth.
Davis P., planter.
Dunkins & McKenzie, stock dealers.
Dunkins Henry, planter.
Dunkins David, planter.
Eulow John, surveyor and civil engineer.
Fowler W. F., planter and stock dealer.
Henly James, planter.
Henly John Jr., stock dealer and planter.
Henly John, Sr., planter.
Haskins T., planter.
Mans J. P. & Martin, commission and Ffrwarding merchants, and general store, stock dealers and coal dealers.
MANS.J. P., POSTMASTER.
Martin Shelvee, planter.
Musick A., planter.
Musick M., planter.
McKenzee John, planter.
Norflett A., planter.
Norflett J. V., planter.
Roe John, planter.
Russell H., planter.
Wilson Wm., planter.



Source: THE MISSOURI STATE GAZETTEER AND BUSINESS DIRECTORY, St. Louis, MO, 1860