| | | |
| --- | --- | --- |
| | | Marion - Cole County Communities |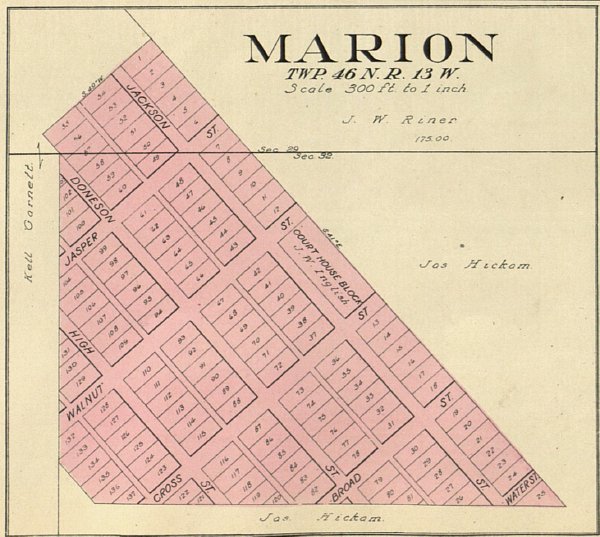 MARION
Marion was platted in 1820 by William and Daniel MCKENZIE, of Howard County, and BASS and LINTZ, of Boone County, at Moniteau Rock, two miles below the mouth of that creek. A year later the seat of justice for the new county was placed there; Dan. MCKENZIE opened his store; E. V. HOLLINGSWORTH, his hotel; Joshua CHAMBERS, a horse-power mill; John L. GLAZEBROOK, a blacksmith-shop; CATO, "the colored freeman," a dramshop, and the county her offices, of which Jason HARRISON was factotum. In 1826, when the seat of justice was moved to Jefferson City, the old court-house was sold for $450.

The town of Marion was incorporated November 10, 1837, with David COULTER, Charles T. DIXON, Nelson G. MCKENZIE, John M. DICKINSON and Ezekiel TOMLINSON, trustees. There was little or nothing done under this charter, and when the establishment of Moniteau County, in 1845, cut off all hopes of its being again the county seat of Cole, the business as well as the municipal circle fell to pieces.

Johnson GLENN and J. S. MADDEN's general stores, and the postoffice, kept by the former, may be said to make up the village at the present time.
CLASSIFIED BUSINESS DIRECTORY OF COLE COUNTY

Marion, in Marion township, on the Missouri river, 10 miles northwest of Jefferson City, the nearest banking location, and 8 north of Centretown, its most convenient shipping point. Ferry across Missouri river. Population 50.
Eppenauer, George, merchant.
Kirschman, Henry, carpenter.
Mayo, W. K., carpenter.
Stuart, George, carpenter.
Taggart, C. C., merchant.

Source: Illustrated Sketch Book AND DIRECTORY OF JEFFERSON CITY AND COLE COUNTY
J. W. JOHNSTON. Editor.
---
MARION,

A post village of Cole county, situated on the Missouri river and Pacific Railroad, 15 miles from Jefferson City, the county seat, and 140 miles from St. Louis. The chief products of the township are wheat and corn-timbers, oak, walnut, &c.-minerals coal and lead. The average price of uncultivated land is from $1,25 to $5 per acre, cultivated from $2,50 to $20. It contains one common school, one blacksmith, two coal dealers, two general stores, one physician, one steam saw mill. Population 70.

TOWNSHIP OFFICERS.
J. W. Wells,
J . E. Pare, Justices.
Wm. Chambers,
Gideon Hutson, Constable.



Source: THE MISSOURI STATE GAZETTEER AND BUSINESS DIRECTORY, St. Louis, MO, 1860