| | | |
| --- | --- | --- |
| | | Russellville - Cole County Communities |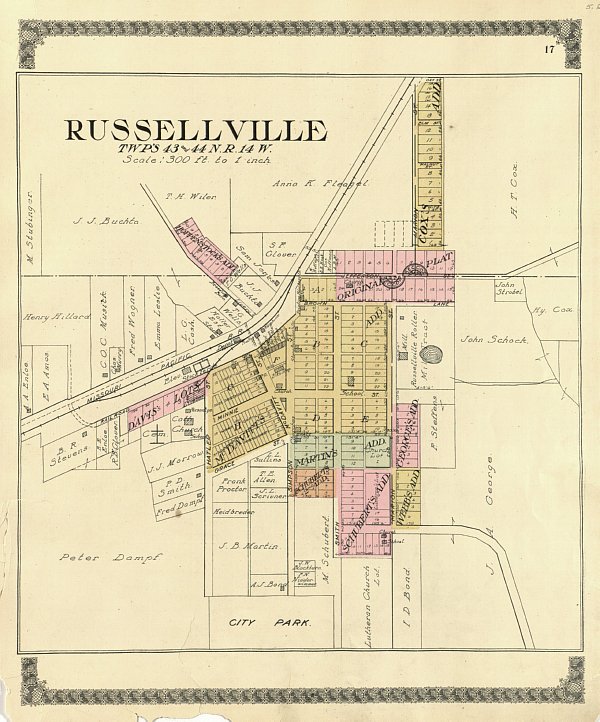 RUSSELLVILLE (elevation 880 feet)
Russellville was surveyed for Richard MORRIS, B. W. RUSSELL and Benj. P. GRIFFIN, and acknowledged by them May 3, 1838. There are eight blocks shown, four on each side of Jefferson Street, which street is intersected by Lynn, Marion and Benton Streets. B. and Elizabeth L. MCDAVITT's addition was made in July, 1882. The town is seventeen miles southwest of the capital, on the Lebanon branch of the Missouri Pacific Railroad. Among the business men in 1885 were Hugh L. ENLOE, LINSENBARTH & HATTER, SMITH & LIVINGSTONE, L. ZARN & Co., Dr. J. B. MARTIN, Q. M. MUERS, J. J. WEBER, WILLIAMS & BROWN, J. S. RUSSEL & Co. and H. L. ENLOE. Religious societies were represented by the Methodists, Presbyterians and Christians. The storm of June, 1875, carried the Union Church building (three miles west of Russellville) off its foundations. The Masonic and Odd Fellows hall, completed that month, was demolished.

The fire of January, 1883, swept away much of the old town, destroying property of L. ZORN & Co. valued at $6,000. The Odd Fellows lost their building, in which was H. L. ENLOE's store and Dr. J. B. MARTIN's drug store. Jacob DAMPH's dwelling was also destroyed.

Russellville Lodge, No. 90, was instituted under charter, December 22, 1888, and the hall dedicated.

It is situated at Sec. 2 & 3, Twp. 43 N, Range 14 West and Sec. 34 & 35, Twp. 44 N, Range 14 West, at the junction of Highways K & C.
CLASSIFIED BUSINESS DIRECTORY OF COLE COUNTY

Russellville,, in Moreau township, on the Lebanon Branch of the Missouri Pacific Railway, 18 miles southwest of Jefferson City. Mail, daily. Population, 300.
A. F. & A. M., No. 90 — John Grant, secretary.
Bierent, Albert, barber.
Cash, L. G., Pacific Express and insurance agent.
Catholic church. Rev. Keller, pastor.
Connell & Busch, butchers.
Craemer, Wm. H., blacksmith and farm implements.
Craemer, J. J., flour and feed.
Dampf, Jacob, blacksmith.
Dampf, J. A., dentist.
Devilbliss, Jennie, teacher.
Enloe, W. F., insurance agent.
Enloe, H. L., jeweler.
George & Goodwin, carpenters and contractors.
George, W. R., restaurant and jeweler.
German Lutheran church.
Grant, J. & Co., general store and poultry dealers.
Heidbreeder, L., harness and saddler.
Heidbreeder, H.. laundryman.
Hert, John W., jr., painter.
Heidbreeder & Landrum, general store.
Hodges, Alice, dressmaker.
Hunter & Stevens, lumber yard.
Jordan, Lee, teacher.
Leslie Bros., stock dealers.
Martin & Norwood, druggists.
M. F,. church (south), Rev. Stoutfer, pastor.
Martin, J. B., physician.
McAllister, G. F., druggist.
M. W. A. — L. G. Case, clerk.
Nance & Schneider, stock dealers.
Newbold, John, marble works.
Norwood, W. W., physician.
Presbyterian church. Rev. P. Ridelamp, pastor.
Pacific Express Co.
Ritchie & Stark, flour and grist mill.
Russellville Exchange Bank.
Schmidt Bros., saloon.
Schneider Bros., hotel.
Schubert, M., insurance agent.
Schubert-Weyler Mer. Co., general store and poultry dealers.
Scott, Rev. W. H., pastor Christian church.
Son, J. F., physician.
Stark, Del, photographer.
Steffins, F., general store and poultry dealer.
Tremain, M. L., editor Rustler.
Tremain, George W., auctioneer and real estate.
Tremain & Hodges, millinery.
Wilhite Bros., livery.
Williams, Mattie, dressmaker.
Williams, K. F., stock and Poultry breeder.

Source: Illustrated Sketch Book AND DIRECTORY OF JEFFERSON CITY AND COLE COUNTY
J. W. JOHNSTON. Editor.
---
RUSSELLVILLE,

A post office of Cole county, 15 miles west by south of Jefferson City, and 138 miles from St. Louis.



Source: THE MISSOURI STATE GAZETTEER AND BUSINESS DIRECTORY, St. Louis, MO, 1860