| | | |
| --- | --- | --- |
| | | Taos - Cole County Communities |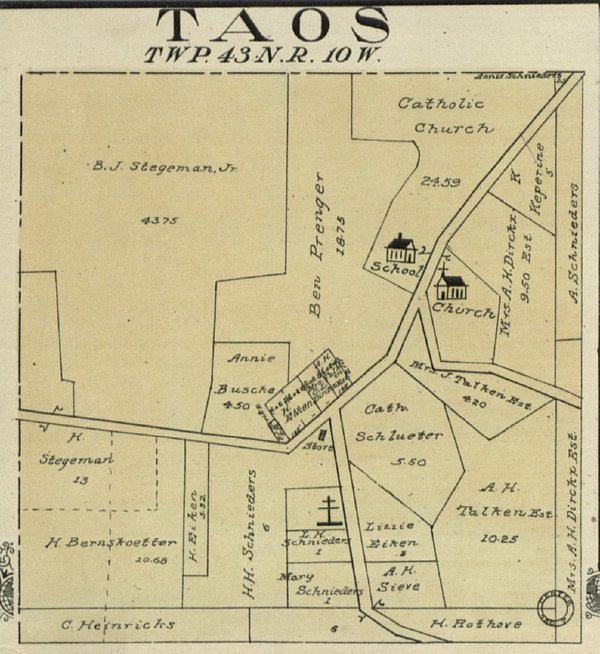 Taos
Taos is south of Ewing and Osage City. (--Sectional Map of Mo., 1894, Rand, McNally.)
It is situated at Sec. 6, Twp. 43 N, Range 10 West on Highway M east of the junction with Y.
Mail via Jefferson City. Taos also in Buchanan County. (--Rand, McNally, 1974.)
CLASSIFIED BUSINESS DIRECTORY OF COLE COUNTY

Taos, in Liberty township, 10 miles southeast of Jefferson City, the seat of justice and banking location, o from Osage City, its shipping point. Mail, daily. Population, 150.
Brand, Henry, Poland China hog breeder.
Catholic school.
Dierckx, Peter, shoemaker.
Dierckx, Chas., furniture.
Dierckx, August, painter.
Eiken, Herman, carpenter.
Forck, J. B., carpenter.
Forck, J. H. M., carpenter.
Kerl, Adam, photographer.
Lauf, Peter, live stock dealer.
Lutheran church. Rev. F. Geier, pastor.
Ortmeyer. S.. stock dealer.
Prenger. Ben., blacksmith.
Public school.
Rackers. Ben., blacksmith.
Sanning, Herman, blacksmith.
Schleuter, Ben. D., general store and saloon.
St. Francis Catholic church. Rev. J. Schmidt, pastor.
Schubert, H., general store and saloon.
Stegeman, Henry, carpenter.
Weckenborg, H. H., general store.
Weith, Martin, blacksmith.

Source: Illustrated Sketch Book AND DIRECTORY OF JEFFERSON CITY AND COLE COUNTY
J. W. JOHNSTON. Editor.