| | | |
| --- | --- | --- |
| | | Brazito - Communities of Cole County |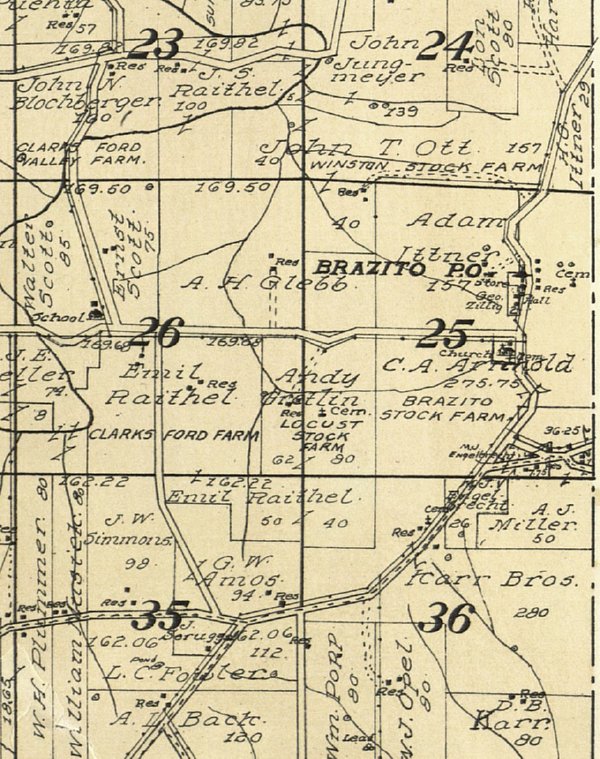 Brazito
Brazito is west of Osage Bluff. (--Sec. Map of Mo., 1894, Rand, McNally.) It is 15 miles southwest of Jefferson City, and had 1 schoolhouse and a store. (--Campbell's Gazetteer of Mo., 1874, p. 167.) It is situated at Sec. 25, Twp. 43 N, Range 13 West on Highway 54. Mail via Jefferson City. (--Rand, McNally, 1974.)
CLASSIFIED BUSINESS DIRECTORY OF COLE COUNTY

Brazito in Clark township, 14 miles southwest of Jefferson City, the county seat, nearest shipping and banking point. Daily mail stage to Jefferson City and Hickory Hill. Population 50.
Arnhold, Chas. A., hotel and general merchant.
Centennial school, - two miles west.
Engelbrecht, M. J., blacksmith and farm implements.
Glover. C. S., physician.
I. O. O. F., — N. R. McCamment, secretary.
McCamment. N. R., teacher.
Miller. Andrew, jr., carpenter.
M. W. A., — E. V. Smith, clerk.
Ott. William & Co., saw mill.
Scrivner & Son, general store.
Stauffer, A. B.. carpenter.
Swenahardt & Howser, saw mill.
Zillig, George, blacksmith.

Source: Illustrated Sketch Book AND DIRECTORY OF JEFFERSON CITY AND COLE COUNTY
J. W. JOHNSTON. Editor.
---
BRAZITO,

A post village of Cole county, Clark town ship, 13 miles from Jefferson City, the county seat, was first settled by G. B. Henley. Population 37.
Alphabetical List of Professions, Trades, Etc.
Arnot W. L., druggist and physician.
HENLEY G. B., POSTMASTER.
Henley G. B., general store.
McCain James, boot and shoe maker.
McCain James, hide and leather dealer.
McCarty Moses, grocer.
Parker Franklin, school teacher.



Source: THE MISSOURI STATE GAZETTEER AND BUSINESS DIRECTORY, St. Louis, MO, 1860