| | | |
| --- | --- | --- |
| | | Jefferson City - Cole County Communities |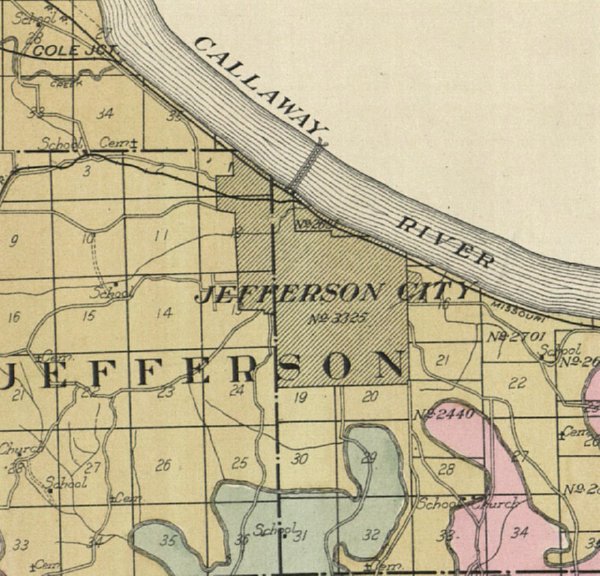 Jefferson City (elevation 625 feet)
The congressional act of March 6, 1820, authorized the establishment of a State government, also set apart four sections of public lands as a site for the capital. The constitutional convention of July 19, 1820, accepted the act of Congress, and the first State Legislature, in the act of September, 1820 (providing for the establishment of the permanent seat of government), appointed five commissioners for the purpose. Cote Sans Dessein, in Callaway Co., was named as the place, and the first Monday in May, 1821, as the time of the meeting of the commissioners...
Now the contest for the capital was begun. Peter Bass and William Leintz founded the town of Marion, and offered 450 acres as a site; Angus L. Langham made a similar offer at Cote Sans Dessein...But the commissioners...chose Jefferson City. (After considerable legal action, the site was approved)...
The new location did not become the capital in fact until the fall of 1826...Jefferson City was incorporated November 7, 1825...but not until 1839 was the act of incorporation observed...The first house in Jefferson City was erected in 1819...(--Hist. of Cole Co., pp. 277, 278, 279, 280.)
The State Penitentiary was opened March 1, 1836, and William Eidson (convicted of stealing a watch in Greene County) (was) installed as the first prisoner. (--Hist. of Cole Co., p. 240.)
An act of Congress, passed March 6, 1820, authorized the organization of Missouri as a State, and made a grant of four undesignated sections of public land as a capital site. The first State Legislature, elected in anticipation of the admission of Missouri to the Union, convened in St. Louis in September, 1820, and appointed as commissioners to make the capital location, John Thornton, of Howard County; Robert G. Watson, of New Madrid; John S. White, of Pike Co.; and James Logan, of Wayne Co.; and Jesse B. Boone, of Montgomery Co.; the latter died soon afterward, and was succeeded by Daniel M. Boone, of Gasconade. The commissioners met in May, 1821, at Cote Sans Dessein (now Barkersville) in Callaway County, which place contested with the new town of Marion in Cole County, for the location. The rival claims were disregarded, and the present site was chosen, being described in the official report as fractional Secs. 6, 7 and 8, Secs. 17 and 18, and so much of Sec. 19 & 20 as would make up four sections in frac-...Township 44 N, south of the river and Range 17 west. (--Encyclopedia of the Hist. of Mo., Conard, Vol. 3, p. 427.)
It covers several sections in Twp. 49 N, Ranges 11 & 12 West at the junction of Highways 50, 51 & 54.
Below are links to some of the architectural surveys, reports and maps held in the State Historic Preservation Office's inventory for districts in Jefferson City.
---
JEFFERSON CITY,

The county seat of Cole county, and the capital of the State of Missouri, is beautifully situated on the south bank of the Missouri River, opposite the mouth of Cedar Creek, and 143 miles from its confluence with the Mississippi River, latitude 38° 36' north, and longitude 92° 08' west-980 miles west of Washington, and on the Pacific Railroad 125 miles from St. Louis. The site of the city is elevated and uneven, and presents a fine view from the State House. The principal buildings are the State House, one of the finest stone edifices in the country, the Governor's house, a fine and elegant mansion, the State Penitentiary, Churches, and several fine Hotels, viz: City, Virginia, Tennessee, and McCarty. It contains several stores, manufactures of wood and iron, cabinet furniture, boots and shoes, tinware, harness and saddles, clothing, wagons and carriages, and flour ing mills, and a bank, a branch of the Bank of the State of Missouri. The Jefferson Examiner is the official State paper, and is published by W. G. Cheney. There are three stage routes, as follows: from Jefferson City to Columbia, distance 30 miles; to Fulton City, distance 25 miles, and to Tuscumbia, distance 40 miles. Population 3,500.
NoTE.-The lists of county, city and township officers, as well as names of State officers, and other information relative to the various State departments, will be found in the latter part of this work.

Alphabetical List of Professions, Trades, Etc.
Aegan John, boots and shoes, Madison.
Ainsworth Robert, family groceries, High.
American House, John M. Bouer, proprietor, Levee.
Asel John, meat market, Madison.
Bailey J. W., surgeon dentist, High.
Batte A., attorney at law, High.
Bauer John, jeweler, High.
BELCH J. ED, ATTORNEY AT LAW, NOTARY PUBLIC, DEALER IN REAL ESTATE AND GENERAL AGENT, HIGH.
ATTORNEY AT LAW, NOTARY PUBLIC. DEALER IN amt rs'rn*r., AID GENERAL AGENT, JEFFERSON CITY, MO. Lands bought and sold, Money invested, Taxes paid, and Collections make through out the State.
Berry F., drug store, High.
Power George, stoves and tinware, Madison.
BRUNS B. & CO., PROPRIETORS OF CAPITAL MILLS.
Burger Henry, merchant tailor, High, at Jefferson and Broadway.
Capital Mills, Bruns, Dulle 6: Kroeger, proprietors.
CHENEY W. G., EDITOR AND PROPRIETOR JEFFERSON EXAMINER.
Cloney, Crawford 8.'. Co., general store, High, cor. Madison.
Cloney, Crawford &. Co., general merchandise, wholesale and retail, High, cor. Madison.
Colgen Mrs. K., dressmaker and plain sewing, cor. High and Monroe.
Cordell J. H. & Co., general merchants, High, cor. Madison.
Currey John D., proprietor Jelferson House, cor. High and Jefferson.
Davis J. W., boarding house, cor. High and Jefferson.
DEITZ & WADDE, BOOK BINDERS, WASHINGTON.
DIXON JOHN M., POSTMASTER, post office, High.
Dorriss A. P., physician, Madison.
Dulle G. H., (B. D. 8t K.) capital mills.
Edwards 6'. Snodgrass, physicians and surgeons, High.
Else B. B., attorney at law and insurance agent, High.
Estabrook J. H., billiard saloon, High.
Etaold George, boot and shoe maker, High, bet. Madison and Jefferson.
Evans G. W., dentist, Madison.
Evans &. Umstead, millinery and dress making, Madison.
Ewing Henry Clay, attorney at law, near Court House, on Monroe.
Furguson House, Furguson Wm., propr. corner High and Broadway.
Furguson Wm., propr. Furguson House, Broadway.
Feyerlein Mrs. Charles, saloon, High, bet. Madison and Jefferson.
Fisher F., blacksmith, Madison.
Fisher Augustus, saloon, High.
Flemming 8t Thompson, marble works, High.
A. M. LAY, ATTORNEY AT LAW, JEFFERSON CITY, M0. Collections, and all other business, promptly attended to, in Cole, Caliaway, Boone, Morgan, Miller, Maries, Moniteau, Osage and Gasconade counties.
Flemming & Turner, saloon, Levee.
Frank Lewis, clothing store, High, bet. Madison and Monroe.
Frazier Henry, grocery, Madison.
Board of Alderman, High.
Fulkerson Abraham, president of the bet. Madison and Jefferson.
Gaylord ll. 8:. W. H., furniture and mattress manufacturers, High.
Gooding Joseph, carriage maker, High, bet. Madison and Monroe.
Griflin C. K., proprietor Virginia Billiard Saloon, cor. High and Jefferson.
Grimshaw Jonathan, agent U. S. Express Company, High.
Gresse Jacob, harness and saddler, High,
Grishammer Nicholas, barber, High.
Groll Alexander, general store, Madison.
Gundelfinger Andrew, stoves and tinware, High.
Gus F., general store, Madison.
Hemneck H., painter, Jefferson.
I-Ieizman Joseph, meat market, Madison.
Henebry John, clothing store, Madison.
Hendrick Joseph, barber, High, bet. Madison and Jefferson.
Henderson 8: Hough, attorneys at law, Madison.
HUFFARD R. A., GENERAL LAND AGENT, NOTARY AND CONVEYANCER.
JEFFERSON EXAMINER, W. G. CHENEY, EDITOR AND PROPRIETOR, MADISON. DAY OF ISSUE, SATURDAY. (See card in classification.)
Jefierson House, J. D. Currey, proprietor, High.
Jefferson House, cor. High and Jefferson.
Klein Rudolf, painter and cigar store, Madison.
Kerr W. D., proprietor Virginia Hotel.
Kocher John, tailor, Madison.
Knap Frederick, St. Louis lager beer saloon, Levee.
Koeger John H., (B. D. & K.) Capital Mills.
LAY A. M., ATTORNEY AND COUNSELOR AT LAW.
Lieberd Jessie, boot and shoe maker, Madison. Liebert G., boots and shoes, Madison,
Lepage J., paper hanging store, High, bet. Madison and Monroe.
Lohman C. F., general store, Levee.
Maus Chas., boarding house, Jefferson.
MCCARTY'S HOTEL. D. H. McCARTY, Proprietor. McCarty street, JEFFERSON CITY, MO.
MAUS C. B., WHOLESALE AND RETAIL GROCER, COMMISSION AND FORWARDING MERCHANT AND STEAM BOAT AGENT AND DEALER IN ALL KINDS OF DRY GOODS, IRON, STEEL, &c. &c., WATER.
MATTHEWS TENNESSEE, DRUGGIST, HIGH.
Mayer G.A., cigar and tobacconist, High, bet. Madison and Jefferson.
McCarty, livery stable, High, bet. Jefferson and Broadway.
McCARTY D. H., PROPRIETOR OF McCARTY'S HOTEL, McCARTY.
McCARTY'S HOTEL, D. H. McCARTY
PROPRIETOR, McCARTY. (See card page 137.)
Morell Lewis, barber, High.
Newman H. H., proprietor City Hotel.
Newman's City Hotel, cor. Madison and High.
OBERMAYER & BROTHERS, WHOLESALE AND RETAIL DEALERS IN DRY GOODS, GROCERIES, HARDWARE, QUEENSWARE, CLOTHING, HATS AND CAPS, BOOTS AND SHOES, CARPETS, JEWELRY, CIGARS, &c.
Opel John, saloon, High.
Overmier & Bros., general store, Madison.
Patton J. G., surveyor, High.
PEABODY A., HOMOEOPATHIC PHYSICIAN, EDITOR OF MO. EDUCATOR AND PRIVATE SECRETARY OF THE GOVERNOR.
Phillips Albert, surgeon dentist, High.
Presner John, baker, bet. Madison and Jefferson.
Popp George A., boot and shoemaker, High, bet. Madison and Jefferson.
Popp & Stoehr, harness and saddle makers, Madison.
Pratt B. F., harness and saddler, High, bet. Madison and Monroe.
Railton J., bakery, Jefferson.
Rhodes Wm., ice cream saloon, High, bet. Madison and Jefferson.
Roson John, gunsmith, Madison.
Sachs John B., grocery and provision store, High, bet. Madison and Monroe.
Schutt John, lager beer saloon, High, bet. Madison and Jefferson.
Schaaff Casper, cabinet maker, High, bet. Madison and Jefferson.
Sides Franklin, hardware and cutlery, High.
ST. LOUIS AND LEAVENWORTH TELEGRAPH, Charles M. Stebbins, President; James K. Goodwin, Operator.
STUART CHARLES W., STATION TICKET AGENT, PACIFIC R. R.
Shultz H. E., groceries, Madison.
SMITH FRANK, PROVISION STORE, MADISON.
Tarn Andrew, fruit and cigar store, High, bet. Madison and Jefferson.
TENNESSEE HOUSE, Tennessee Mathews, proprietor, High.
Vincent C. D., clerk Virginia Hotel.
Virginia Billiard Saloon, C. R. Griffin, proprietor.
Virginia Hotel, cor. High and Jefferson.
Wagner Chas., saloon, High, bet. Madison and Jefferson.
WATSON J. CHRISTY, WATCH MAKER AND JEWELER, HIGH.
WATSON J. CHRISTY, book seller and stationer, news dealer, &c., &c., High. Orders for goods promptly attended to.
Wedgemann & Derck, livery and sale stable, Murry.
Weirss J., saloon, High.
Wells & Winston, physicians and surgeons, High.
Whitcomb & Co., groceries and provisions, High.
White G. T., High, between Madison and Mound.
Winston G. B., druggist, High.
Zwinger John, blacksmith, corner Monroe and High.



Source: THE MISSOURI STATE GAZETTEER AND BUSINESS DIRECTORY, St. Louis, MO, 1860